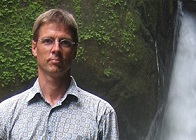 Hi. My name is Robin Green, and you might think my name is no accident. I've been a 'greenie' since my teens, when I helped run a recycling drive in my Toronto neighborhood, and put up homemade windmills in my back yard.
I'm also an extreme do it yourselfer. I gutted and remodeled three bedrooms of our 90-year-old house, and underpinned my own basement.
Occasionally my DIY efforts backfire. I fried the circuit board on an electric bike by trying to fix a problem myself instead of taking the bike to the bike shop.
From that last bit you might have guessed I'm also a tightwad. I expect may DIYers are – why pay someone else if you can do it for free on your own? But I've learned that sometimes you have to spend a dollar today, to save two dollars tomorrow, and sometimes paying the experts is the right way to go!
These obsessions – going green, doing things myself, and saving money – have driven me to do just about every home efficiency upgrade imaginable.
My wife and I lived in rentals at first, and I cut our energy use on a shoestring budget, with plastic window insulation, CFL bulbs. I even converted our hot water tank to an on-demand heater, with $20 worth of hardware. You get the picture.
Our first home
When we bought our house, it was drafty and badly insulated. I replaced the old furnace, paying a $1500 premium for an ultra efficient model. That decision has saved me at least $2500 so far.
In 2006, worried about climate change, I asked for a quote on solar electric panels, thinking I would do my bit to generate green electricity. The engineer looked at my electricity bill and told me I would have to cut my use in half before he'd consider selling me solar panels. Why spend a fortune on solar, he said, to generate electricity you don't even need?
I thought he was nuts. Our usage was 11 kwh a day, a third the local average. How could we get to one sixth the average? He sold me a Kill A Watt meter, and told me to measure the power use of every plug-in device I could. The rest, he said, would follow.
I went wild, finding waste left and right. In two months we were down to 6 kwh a day. I never installed the solar panels; I was already saving more electricity than the panels would have produced!
A year off
In mid 2008, my wife and I took a year off, and took our kids to Costa Rica. We studied Spanish at a language school, then travelled for a month, ziplining through the cloud forest, watching red-hot rock roll down Volcan Arenal, body surfing in the Pacific. In October we settled on the coast, and enrolled the kids in public school.
Taking a year off is a great experience, if you can swing it. My wife, a Grade 3 teacher, was on a "4 over 5" plan: she took a 20% salary cut in exchange for getting every fifth year off with pay. I took an unpaid leave from my IT sector job. As long as we didn't do too many whale watching trips or rainforest eco tours, her pay would see us through.
Just before we left Toronto, I was stressing out because I faced a whole year off with nothing to keep me busy. The kids would be in school, my wife would be volunteering, reading, enjoying the good life. But I'm not just a tree-hugging, tight-wad DIYer. I'm also a busy bee. I needed a project to work on.
Since I enjoy writing, I decided to try writing articles online about my favorite topic of energy efficiency. Why not share what I've learned with others, I thought? When I started this website, the real goal was to help a few people save energy, and maybe make a little money on the side, from the Google ads and Amazon product links. Five years later, I've had over two million visitors stop by. If just a small fraction of those visitors use articles on my site to cut their home energy use, I feel like I've made an impact. And I've paid for some MAJOR home upgrades with earnings from the site.
I returned to work in mid 2009, and I don't do much on the site now. mostly just respond to visitor questions. I'm too busy with my job at Vena Solutions, volunteering and singing for an East Toronto choir, and all the other great stuff in life, to have much time to write new articles.
I hope Green Energy Efficient Homes will help you green your home and make it more energy efficient. I welcome your feedback, and your questions, whether about energy efficiency, or about my experience building and running this site.
Happy Saving!
Robin Green